External catering service at BNDCC
News Feed
Tuesday, 06 June 2017
BALI Nusa Dua Convention Center (BNDCC*) has launched a new 'Outside Catering' service to deliver cuisine of the highest quality for any event in Bali.
BNDCC can cater for private gatherings, corporate events, or wedding receptions and is dedicated to making every event a wonderful success. It offers Indonesian, Asian, Western, Balinese and barbeque alternatives as a minimum, and the team will work closely with clients to tailor-make the menus to meet specific requirements.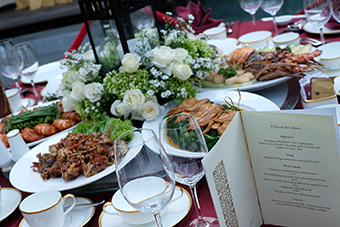 Clients have an array of packages to choose from when deciding what food and beverage options to select. Packages include all-inclusive food and beverage, buffet, cocktail and a set menu. Additional services, including table decoration, are complementary in these packages.
Rika Maylani, BNDCC's executive assistant manager said: "BNDCC has, for many years, been Bali's premier convention and events destination. Our remarkable kitchen team frequently prepares food arrangements for world leaders and major corporate events. BNDCC also leads the way with more intimate events such as weddings and private banquets. Underpinning the success of BNDCC are the spectacular and sophisticated menus prepared by our talented chefs."
*BNDCC is an integrated MICE facility in the premier resort area of Nusa Dua. The area has more than 7,500 rooms of 4 and 5-stars international chain hotels, an 18-hole golf & country club, an amphitheatre, an international hospital, a luxurious shopping mall, cafes and restaurants plus a seamless white sandy beach within a walking distance.
The uniqueness of the Center with its 70,000 sqm green surrounds is inspired by Balinese culture and architectural design. BNDCC offers 44 multi-function rooms that can facilitate up to 10,000 delegates, including the 4,400 sqm sub-divisible Nusa Dua Hall.
On the web: www.baliconventioncenter.com.