Dubai conference could impact association events world wide
News Feed
Tuesday, 06 June 2017
The first-ever Dubai Association Conference in December this year potentially could help transform the business model for association gatherings internationally.
As we have reported in the past year, the emirate's convention bureau - Dubai Business Events (DBE), headed by Steen Jakobsen - has been working hard to show how association meetings can deliver tangible benefits to Dubai's socio-economic development and its transition to a knowledge-based economy.
It has included event organisers and media ñ including MICEBTN - talking with local associations, plus the selection of high-quality keynote speakers - and delegates being involved in specialist workshops structured to boost Dubai's own medical, scientific, technological and other strengths.
The inaugural association conference www.dubaiassociationconference.com was announced recently at the Associations World Congress in Vienna.
Its 'Building a community' theme points to the two-way benefits Dubai wants to emphasise.
Organiser is the Dubai Association Centre (DAC) in collaboration with the Dubai Department of Tourism and Commerce Marketing (DCTCM) and Dubai World Trade Centre (DWTC).
Issam Kazim, DCTCM's chief executive, said that "as associations look to expand their footprint around the world, our aim is for Dubai to be at the top of the list".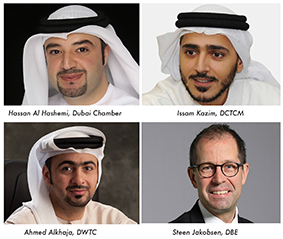 The conference would, he suggested, would help keep Dubai as "a premier host city for business events, reflecting our ambition in discovering solutions to worldwide challenges".
Hassan Al Hashemi, who is a DAC executive committee member, said the association had achieved 100 per cent growth in the number of associations registered.
It had also participated in international conferences.
Ahmed Alkhaja, DWTC's senior vice president venues, said the conference "is set to serve as a distinct platform to support the growth and development of local and global associations regionally.
"This will be achieved by connecting industry professionals, facilitating discussions and knowledge sharing, helping to create new associations and supporting the expansion of established ones in the region."
Conference venue is the World Trade Centre.
It is supported by a number of 'strategic' partners including ICCA, whose chief executive Martin Sirk noted recently that the Middle East's market share of association conferences had grown by over 250 per cent in the decade to 2016, albeit from a small base.
"The association sector is taking off in the Middle East, driven by growth in an educated, professional middle class, a desire for professional education, standards and accreditations, and an understanding by international associations that this is a market of great long-term potential, both for growth in membership and for building business for their members based outside the region," he said.
Meanwhile Dubai Business Events is continuing to attract major international events to Dubai.
A recently-announced collaboration with the International Association of Lions Clubs Middle East and UAE Premier Lions Club will see Lions' ISAAME Forum being held in Dubai from December 4-8 2018.
This event is expected to draw over 5,000 delegates with a further likely boost from partners and family.