Incentive Association plans a seminar series to improve understanding of the industry
News Feed
Tuesday, 06 June 2017
SUPPORTED by its best-ever membership numbers, Australia's Incentive Association (IA) is about to launch a new web site and several other initiatives.
The Melbourne-headquartered organisation will also reassert its role and function as the representative body for professionals in the incentive industry and associated businesses of Australia and New Zealand.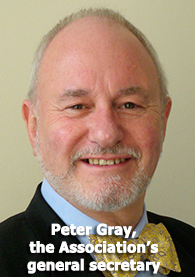 IA, funded entirely by its members, is an independent organisation and primary source of professional advice and expertise for incentive practitioners.
Latest membership numbers are 400-plus, the majority of whom plan and manage incentives for a diverse range of businesses.
Membership also includes suppliers from the hospitality, transport, and specialist areas of business tourism.
The Committee of Management headed by Joe Wojcik, chief executive of 212ºF, has mapped out a plan for the association's future development that will be delivered to members over the coming months.
The IA's newsletter - IA Insight - launched in 2016 will reappear for the 2017/18 financial year and as well as being emailed to members also will feature on the new web site. ""We have a number of distinguished motivation experts and other industry leaders who have written articles specifically for the newsletter," said Peter Gray, the Association's general secretary. "They provide some very interesting and useful insights into our industry."
Elsewhere, the Association is working with Swinburne University to develop education courses covering motivation and recognition those entering the industry and to further develop the skills of those already employed in the industry. "Accreditation is a necessary feature of any industry representative body but it has to be presented in a way that is meaningful to both supplier and end-user," said Gray. "The IA is striving to achieve this key objective.
"Although membership of the IA does not include 'end users', the Association is conscious that the industry as a whole needs to better market 'incentives benefits' to users and potential users and now plans a series of sponsored seminars and breakfasts both on line and in major cities in both Australia and New Zealand to 'better inform industry on our role'," said Gray.
"We are also planning a series of famils to prospective incentive reward destinations and some trade shows for practitioner members."
IA membership information is available at This email address is being protected from spambots. You need JavaScript enabled to view it..