Fancy a conference afloat? It can be a blast – if you avoid the hidden problems
News Feed
Tuesday, 06 June 2017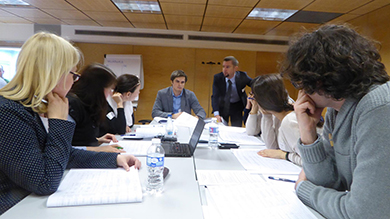 NEW research indicates meetings afloat are becoming more popular and more cruise lines are moving to tap the market.
As well as ensuring they have top-of-the-line audio visual facilities and can offer high-speed internet, cruise operators also are delivering tailored port experiences for ocean-going vessels, writes Jack Handley.
The range of vessels also is expanding, with some ships 'the right size' for whole-vessel groups and others big enough to mix leisure passengers and MICE groups.
In all, around 100 new vessels will be launched globally between this year and 2025 at a total cost of close to US$53 billion - including river cruisers, floating resorts and sailing ships.
River cruising is tipped to be among the big niche winners in the next few years.
I once organised a Friday-Sunday staff conference for my then employer Southern Cross Galileo back in the mid 90s on a Captain Cook Cruises vessel and it was an interesting experiment in a no-broadband, VHS world. Captain Cook organised the menus, shore excursions, on-board activities and the plenary space and Galileo was responsible for conference content.
Our staff enjoyed the experience, which was a change from the standard mid-city hotel meetings we were used to.
We also benefited from a captive market ñ no instances of staff sneaking off home for the night or making unauthorised late-night visits to city pubs and clubs that would hurt their ability to absorb information at the business sessions next day.
Today, river cruise lines particularly in Europe have added very upmarket ships with free wifi, historic city destinations, bikes for delegates to use in the various ports, locally-sourced food and beverages and activity options tuned to suit each group.
In many cases, a conference or incentive group charters the entire vessel.
According to the Cruise Lines International Association (CLIA), younger workers have embraced cruise travel and rank it higher than land-based vacations or even all-inclusive resorts because of the greater variety of activities, sports facilities, entertainment and dining choices and the opportunity to 'do the tourist thing' at different ports.
And on-board entertainment today often is world-class. This means that the event budget isnít being stretched to pay for access to shows and transport between venues.
For the Australasian market, most groups will opt for cruises that leave from local ports because of budget and meeting time constraints and will want to spend between two and four nights 'on the water'. This can be ideal for fly- cruise or cruise-fly arrangements where the group selects cities to cruise from and to. This also can be fine tuned so that for example, the company uses the Sydney-Melbourne cruise sector for a sales conference, then management stays on board and the sales staff leave and fly home, but then are replaced by technical support staff for a second conference Melbourne-Adelaide.
For incentive groups seeking big-budget options, Alaska is a perennial favourite, with multiple round-trip options from Seattle, Vancouver and Alaskan ports.
Lindblad Expeditions and Norwegian Cruise Line are among the world-famous lines offering cruise options there and if other destinations in the Americas are attractive, then add Royal Caribbean, Carnival, Oceania Cruises and Regent for cruises taking in the Caribbean and Cuba.
Closer to home, if not domestic waterways, consider Fiji.

Some minuses
While the plus points are easy to see, there also are some minuses that canít be ignored.
Prime among them is seasickness, which can affect anyone (even sailors) and can spoil even the best-planned business event. Bad weather at sea is unpleasant at best.
But other things to consider include:
What facilities exist (on an ocean-going vessel) if someone in the group becomes ill? Worse, who will be responsible for and pay for emergency evacuations should that be required either because a delegate becomes ill or is injured or, just as likely, a delegateís relative becomes ill and he/she has to fly home.

Food choices. All delegate dietary needs must be communicated to the cruise company ahead of time.

Limited dining options. Not likely to be a big problem these days, but itís a good idea to ensure your budget is big enough so that you avoid limited food choices and boring buffets.

Alcohol included? Many packages will have wine with the main meals and some other drinks covered in the package. Itís best to have everything in writing so delegates (and organisers) know exactly what theyíre paying for and whatís included.

Other expenses. Put everything in writing so delegates know what expenses they can claim when they return to the office and what they canít. Be clear about day allowances, tipping, laundry, phone calls home to family. Also be clear with the cruise company what exactly is covered by the package and what is not.

Internet access. While internet access is a given these days, conference groups may need superior speeds and that can be expensive. Many cruise lines offer internet packages, but check to ensure these packages are sufficient for the delegate numbers and types of downloads required. Also, if the cruise is being ësharedí with leisure passengers, the vessel may need more capacity at peak times than it can deliver.

Shared vessels. Conference groups can be boisterous and late-night partying isnít unknown. For leisure passengers, having a business group on board using adjacent cabins or roaming the decks late at night can be noisy - and difficult for cruise lines to manage.
Sharing cabins. Itís only for a few nights and the organiser will have tried to ensure friends share twin cabins, but itís a good idea to have a plan ëBí so arguments donít spill over and spoil the event for everyone.