IACC out to 'set the bar' for MICE with its new Meeting Room for the Future project
News Feed
Tuesday, 06 June 2017
THE INTERNATIONAL Association of Conference Centers (IACC) has launched its 'Meeting Room of the Future' project.
IACCís quality standards cover meeting room design, food and beverage and services, plus a Copper Skillet culinary competition at country, chapter and global levels each year. Its Meeting Room project is a collaborative one, proposing to transform the meeting experience through design, technology, hospitality, delegate interfacing, operator experience and conference management.
"The use of technology, the physical design of meeting space and the emphasis on experience creation will be increasingly important," said

Mark Cooper, IACC's chief Executive.
IACC conducted research last year to determine the top issues facing the meetings and conference industry world wide. The first phase involved surveys and interviews with more than 150 meeting planners while the second phase focused on venue operators, suppliers, architects, tech companies and nutritionists.
Among key findings in the first two phases were that 66 per cent of venue operators anticipated the flexibility of meeting space would become more important, while 40 per cent of meeting planners felt networking spaces outside of the meeting room are important.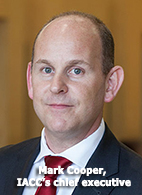 The research is delivering answers to questions such as: Will presentation-driven meetings still be in the majority by 2020, is the establishment of mobile workplaces affecting what an organisation or its delegates need to get from their meeting experiences, what are the most important objectives that venue operators need to know when investing in AV equipment and technology, how to reduce meeting room set-up times and what are the technology priorities?
Industry feedback has been positive: IACC is keen to have more industry partners involved and it is offering a variety of incentives for that to happen.
First point of contact for anyone seeking to follow up on this is Mark Cooper, whose email address is This email address is being protected from spambots. You need JavaScript enabled to view it.
MPI partnership
Increasing the chances of the IACC Meeting Room of the Future project progressing solidly is the alliance signed in April between IACC and Meetings Professionals International (MPI).
This alliance will see the partners 'share event and learning platforms, including education delivered at annual conferences, regional events and online as well as research initiatives'.
MPI will henceforth be an active player in the project, which boosts the project's status in the research stage as well as ensuring wider uptake as it moves into the application phase.