Key role for Airtrain in 2017
News Feed
Monday, 12 December 2016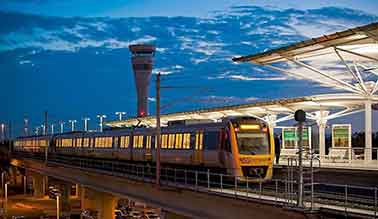 Brisbane's Airtrain is well placed to both support and help drive what is shaping up to be a big year in southeast Queensland.  While 2018 will bring mega-traffic through the airport for the Commonwealth Games, 2017 is also going to be extremely busy, writes Kelvin King.

Tom Tate, mayor of Gold Coast City, recently pointed out that preparations for the games were already drawing visitors and a wealth of new or improved facilities and services was now available.

In 2016 Airtrain www.airtrain.com.au has been very active in a partnership to develop more MICE and business travel in Brisbane and the Gold Coast as well as improving services to local residents and leisure travellers.

As reported in our e-news feed Airtrain has generated substantial new business but and is picking up accolades such as the 'marketing campaign of the year' in the 2016 Global AirRail Awards organised by the Global AirRail Alliance.

Its No Worries campaign was recognised for its use of strategic marketing insights to understand consumer rail experiences and develop an integrated marketing offering with a stress-free approach to travel.

Chris Basche, Airtrain's chief executive said the campaign was a success "because it taps into the motivators and pain-points of consumers when planning airport transfers.  We heard travellers and we did something about it."

This something includes a streamlined online booking platform and an enhanced timetable.

Meantime the MICE and corporate travel initiative is continuing to build momentum.

It has blossomed from and built on the No Worries philosophy.  Basche said the core concept was well suited as a component of C&I logistics.

A 'train and transfer' offer is being well utilised, especially on the Gold Coast.  With partners such as Rydges Fortitude Valley and Sofitel Brisbane Central (right on the Airtrain line) there is also the option of simply walking.

Other partners in the program include Brisbane Marketing (the progressive Economic Development Board agency), the mighty Royal International Convention Centre in the Brisbane Showgrounds precinct, the Gallery of Modern Art, QT Resorts, iFly (perfect for conference breakouts or an incentive reward), Riverlife challenges (on the river or cliff abseiling), Limoso Limousine Services, SkyPoint (Australia's highest external building climb) and Dreamworld.

GOMA: 10 years on and just getting better
Brisbane's cultural precinct on South Bank has built a solid global reputation for its scope, creativity, ready access and neighbouring parklands, restaurants and bars.

It's an events hub with a dynamic year-round calendar at the Queensland Performing Arts Centre, Queensland Museum, State Library of Queensland, Queensland Art Gallery and GOMA: the Gallery of Modern Art.

GOMA www.qagoma.qld.gov.au is currently celebrating its 10th anniversary with what one commentator has described as "an explosion of colour from a range of installations".  

In its first decade GOMA has built a global reputation as a frontline player, mounting exhibitions which range widely through media and sources.
Complementing this is GOMA's own growing collection, rotated in permanent display galleries.

The GOMA Restaurant is perfect for business travellers and is in keeping with GOMA's 'thinking outside the square' philosophy, in culinary terms.  Its wine list features a pleasing number of Queensland wines.