The keys to a successful event app
News Feed
Monday, 12 December 2016
A good native event app will provide features that support and enhance the event experience for all stakeholders including attendees, sponsors, exhibitors, speakers, local venues, restaurants, accommodation providers and of course, the event manager. Native event apps are the tool of choice to deliver content and engage your audience well beyond the walls of the event. Developing a conference or exhibition app that is native to mobile devices takes advantage of the faster syncing capability, the enhanced graphics and the larger screen size of tablet devices, writes Darren Edwards of Invisage Creative Services.
Going native also allows the ability to seamlessly use other applications, such as email, calendar, camera, alerts etc., as part of the event app.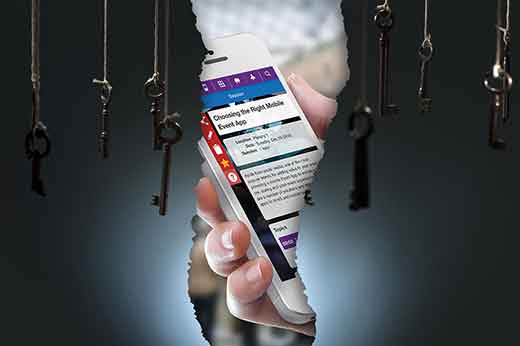 But it is not enough to simply build a native app, you need to build one that works.

Due to the need to enhance the live attendee experience, the value of mobile devices for events has increased immensely. The justification for having one has now moved beyond reasons that solely benefit the event organiser (being green, going paperless, creating revenue streams or being able to communicate changes to participants in real time) to those that also benefit the event participants. Now, it's entirely possible to build an attendee experience around the benefits (utility, justification, connection and recognition) afforded by mobile devices - an advantage that no other event-industry technology has - or can offer.

Simply producing a mobile event app does not mean that it is going to be a success.  Sadly, some event organisers spend considerable sums of event funds in app development only to have the entire process fail as the app did not deliver what the attendees were hoping or they were not even aware of the app's existence. Unfortunately, I have seen this scenario play out too many times.

The number one factor determining the success of your app is the extent to which it enhances the event experience for your attendees. If it doesn't make your event more valuable to those who have invested their hard-earned money and time in attending your events, it's really not doing its job.
Understand your audience and ensure that the app you deliver will provide them with the tools they need to gain the most from your event. If your attendees are there to network, provide them with the tools to schedule meetings and get social. If they are looking for posters, speaker presentations, abstracts and technical data, then ensure that the app you build can deliver this content seamlessly.

So your apps feature set and content are perfect. Why is no one using it?

Effectively promoting your mobile app is vitally important to fully achieve your download and usage goals.

Early promotion is the key to successful attendee take-up. As an event organiser, you want to capture as many app downloads as you possibly can through pre-event promotion.  It is necessary to not only promote downloading the app but also to ensure that it is actively used before, during and after your event.

My suggestion is to start your promotional campaign as early as 60 days out from your event. Statistics show that this proves to be a very beneficial strategy. List all of the app's features and benefits and let exhibitors and attendees know how they will be able to use the app to their advantage.

Make sure you promote the features of the app and how attendees can use the app to make their life easier and their overall experience more efficient and convenient. Include this information in all of your promotional materials.

So how do you encourage increased app usage?

It's quite simple really. As early as 60 days from the actual event, start mentioning the app everywhere. And I mean everywhere. Here are a few of the most effective ways to engage with exhibitors and attendees based on my experience:

• Promote the app on your web site home page and make it easy for all stakeholders to find this information. Your event web site is the best source of information pre-event.  Add a dedicated page that includes the three essentials: QR code, an image of the app, and download instructions.
• Make noise on all your social media accounts. Whether it's Twitter, Facebook, LinkedIn, YouTube or whatever type of social media account you might have, tweet, post and blog away all about the app.
• Add the three app download essentials to event communications such as registration confirmations, newsletters, and e-blasts. These channels are a great way to directly reach your attendees and exhibitors.
• Reach out and ask your exhibitors for help. They are one of the best groups of people to help promote your brand, encourage attendance, and promote the app.
• Schedule a webinar to demonstrate how easy it is to download the app and how to utilise some of the most important app features. Record the webinar and send out the link for quick access and reference.
• Prepare a press release. Press releases are a great way to feature your upcoming event and the technology you'll be using. These also provide you the opportunity to promote your event as the most-anticipated event within your industry.
• Mention your new app in interviews and news articles for industry and association publications.
• In your prospectus, feature the app along with sponsorship opportunities.
• Add app download spiels and links on your staff email signatures. This will also serve as a subtle reminder to exhibitors and guests each time they interact with the staff.

It is not only important for attendees and exhibitors to download the app, you must also encourage them to use it.  A lot of people I talk to feel that 60 days out seems too early to commence their marketing campaign but in my experience the opportunities you create to engage before the event will always result in a higher level of engagement at the event.

As an event professional it is your job to understand your attendees and provide them with an experience that ensures their goals are met. Event apps should place a lot of the control in the attendees' hands, offering the ability for them to personalise their own event experience including managing their schedule, creating their own appointments and making new connections, according to their areas of interests.

The keys to a successful event app are to understand your audience, develop an app that allows you to easily facilitate the attendees experience then vigorously promote your native event app well before the event.