NZ looks to infrastructure investment – will it create a model Australia could adapt?
News Feed
Monday, 12 December 2016
Development of tourism infrastructure is a frequent topic of conference programs and industry events in Australia, NZ and just about anywhere else that values tourism as something to be encouraged for business, cultural, lifestyle and economic well-being.

In NZ four industry stalwarts – all with a genuine claim to the 'tourism leader' status so frequently bandied around with little substance behind it – have decided the time has come to stop talking and do something about it.

They have researched and written a report that calls for a national tourism infrastructure levy to fund targeted improvements – as opposed to the rather less-clearly-defined bed tax proposals talked of in Auckland and elsewhere following the October local government elections.

Auckland's new mayor Phil Goff, a previous Labour government cabinet minister and opposition leader, also envisages a regional fuel tax.  His bed tax would be applied primarily to funding event bids or sponsorships rather than the infrastructure to deal with visitor growth.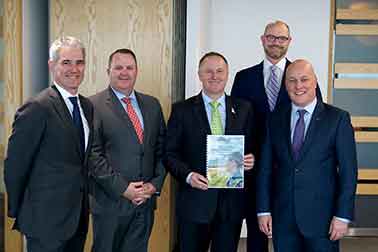 The chief executives of Air NZ, Auckland Airport, Christchurch Airport and Tourism Holdings are proposing a targeted fund that puts around NZ$130 million annually into addressing infrastructure challenges, encouraging further private investment and community initiatives especially outside the main urban centres.
The four report authors with the then NZ prime minister and tourism minister John Key (centre).

This includes key MICE destinations such as Queenstown where the ratepayer base is relatively small.

Their report could potentially be adapted for application in Australia.

Air NZ"s Christopher Luxon noted that tourism is NZ's largest industry and growing fast. "While growth presents huge opportunities for NZ communities the challenges that come with growth need to be well managed and the tourism industry is committed to being part of the solution."

And Malcolm Johns of Christchurch Airport commented that some local communities were pushed to pay for infrastructure.

"Rapid tourism growth over recent years means there's already a local tourism infrastructure deficit in parts of NZ especially in regions with low numbers of rate paying residents and high visitor numbers."

The report suggests that government and industry can work together nationally to create a fund to address the tourism infrastructure deficit. It highlights that the government benefits significantly from the tourism industry, not least from the estimated $2.8 billion in GST that tourists pay every year, and should invest
alongside the tourism industry if the industry is prepared to contribute to a ring-fenced and highly-targeted fund to improve local tourism infrastructure.

The four leaders feel the fund could be based on a two per cent national bed levy and a NZ$5 increase to the border levy which would raise NZ$65 million per annum from the industry. Matching funds from the government would bring this to NZ$130 million.

It also recommends a formal review every five years to ensure the funds are being appropriately applied.

The report authors were keen to avoid problems observed overseas – including in Australia – where tourism levies are used for general revenue purposes and disconnected from tourism.

Presentation of the report to the minister of tourism – then pm John Key – could have been better, given that Key unexpectedly resigned only a few days later.
But the new minister of tourism is likely to run with the concept thanks to the heavyweights involved in its preparation.

The industry reacted positively.

Chris Roberts, chief executive of Tourism Industry Aotearoa (TIA) welcomed the report and said he would be canvassing members.

"The infrastructure challenge has many dimensions and the best outcomes will come from the industry and government both contributing to identifying and implementing the solutions.  A national solution is far preferable to a range of local and regional approaches.

TIA is itself well advanced on a 'national tourism infrastructure assessment', examining the full range of infrastructure challenges and where the priorities might lie.
Graham Budd, chairman of Regional Tourism Organisations NZ (RTONZ) also welcomed the report, saying his members supported a collaborative industry assessment.

Budd heads Destination Queenstown which means he has a daily awareness of infrastructure deficit.

He agreed visitor growth was "imposing an unaffordable burden on many relatively-small ratepayer communities to provide public visitor infrastructure while also protecting and enhancing our natural and built environment.

"We are proud of our national reputation as welcoming and caring hosts and want to provide great experiences. To help achieve this we believe it is reasonable that visitors should be required to make a small contribution to the costs, nationally and regionally, of providing essential components of the experience they enjoy."

Budd explained that RTONZ did "not agree with some opinion regarding the perceived risks of introducing visitor levies and believes that many arguments do not hold up against the vast pool of international experiences and proven examples which we can learn from".